Last Updated on November 7, 2023 by ellen
Are you looking for a last-minute Christmas project for the kids? Try this handprint Christmas tree craft with the kids today.
Posts may be sponsored. This post contains affiliate links, which means I will make a commission at no extra cost to you should you click through and make a purchase. As an Amazon Associate I earn from qualifying purchases.
Handprint Christmas Tree
There are all sorts of handprint Christmas art projects you can do with the kids. But, this Christmas tree craft is definitely one of my favorites.
There are several different ways to make a tree using your child's handprint. I've seen some with one closed handprint. And, I've seen several different varieties of the project I'm sharing below.
This is a fun way to keep track of how quickly your child grows. It's a great reminder of the passage of time when you compare last year to this year.
How do you make a handprint Christmas tree?
Have your child paint their hand with green acrylic paint. Then, have them press their handprint in rows starting with a higher number to a lower number until they have a triangle shape.
This triangle should be in the shape of a pine or fir tree and is the basis of their design.
Supplies needed
A large piece of kraft or fingerprint paper
Green acrylic paint
Foam paintbrush
Miscellaneous paper, glitter, gold stars, etc. for decorations

Alternative decorations
If you don't have craft supplies for them to decorate their tree, you can try this option instead.
Just have them press their fingerprints into different colors of paint and use those to make "ornament" designs all over the tree branches. You will need to get a few more bottles of paint. This paint kit is perfect.
Colors like purple, red, and yellow will look festive and offset nicely with the green of the tree.
Handprint Christmas tree plate
Another fun idea is to have your child trace their hand on a piece of green construction paper. Then, cut out 6 to 8 different hands and overlap them around the edge of the plate.
Tie a red ribbon bow at the top and you have a wreath. Or, place one handprint in the center and use that shape as the tree.
Family handprint Christmas tree
You can also get the whole family in on the fun. Just use the largest person's hand as the base. And, then layer the rest of the hands left to right to make a tree. Decorate it with whatever craft scraps you have on hand.
More Christmas crafts
This Rudolph craft is a special craft that helps show children the importance of showing their own true colors. It's very easy to make and encourages creativity.
You are going to love these sports-themed Christmas ornaments! I love handmade Christmas ornaments and we have quite a few of them on our tree each year.
These paint chip bookmarks would make a wonderful gift for Christmas. Just choose red or green paint chips and decorate with Christmas stamps.
Tips for keeping this fun
This can get really messy. So, be sure to have the kids wear an apron or put on an old t-shirt.
Be sure to cover the table completely with newspaper so that you don't get paint everywhere. And, remember, paint washes off.
Let the kids have fun and don't get hung up on everything being the correct color when they make their handprint Christmas tree.
If you're looking for more fun crafts for kids, check out The Original Subscription Box for Kids!.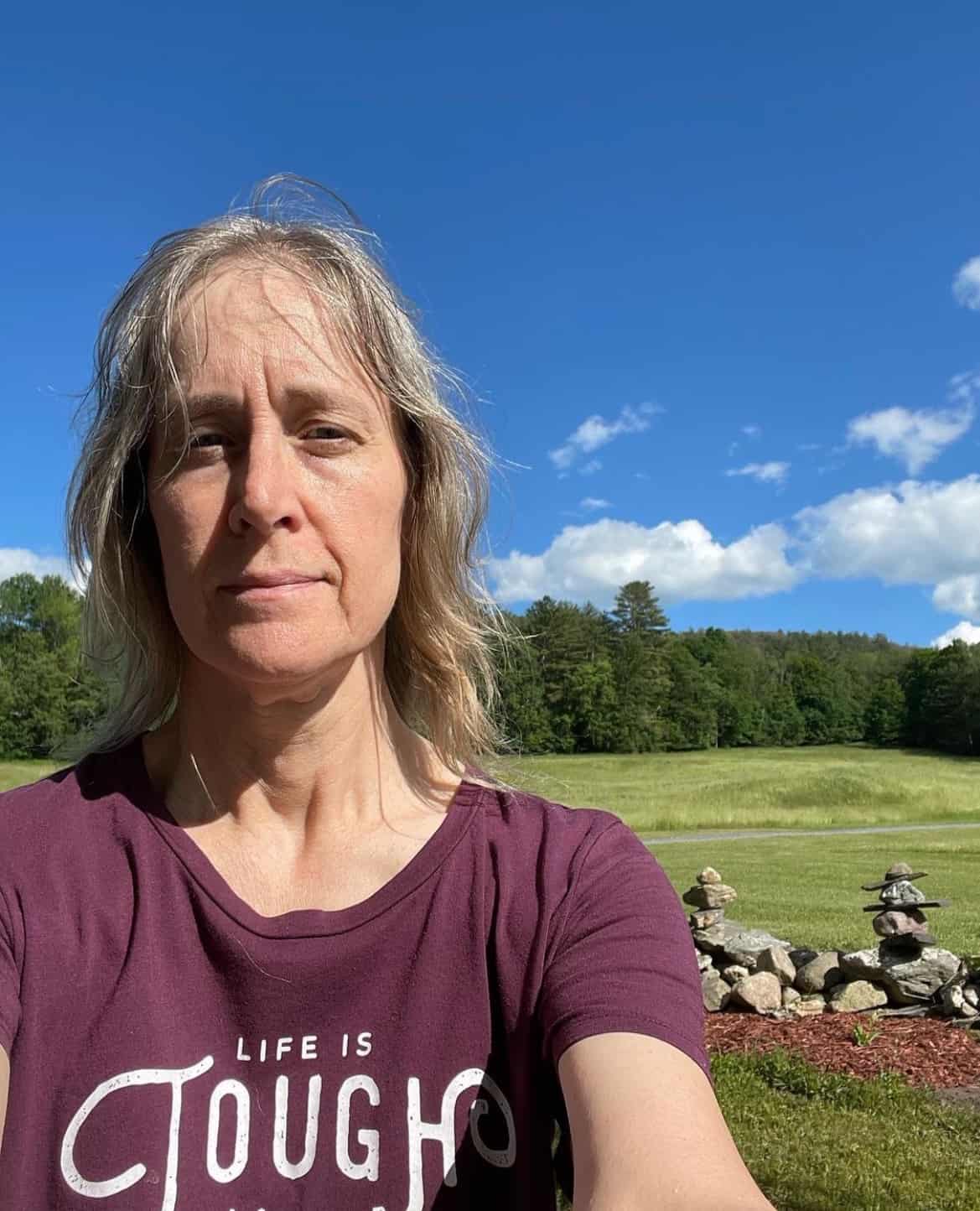 Ellen is a  of a 25-year-old son and 30-year-old daughter. She is Grandma to one adorable toddler. In what little spare time she has, she loves to read, watch movies, check out the latest toys, and play games.