Last Updated on April 8, 2023 by ellen
If you want a plastic free kitchen, here are some tips to reduce plastic consumption in your home. This can help you save money and eliminate toxic chemicals.
Posts may be sponsored. This post contains affiliate links, which means I will make a commission at no extra cost to you should you click through and make a purchase. As an Amazon Associate I earn from qualifying purchases.
Plastic Free Kitchen Tips
There are many reasons to go plastic-free in your kitchen. Some people are hoping to achieve a zero-waste lifestyle. Others just want to reduce excess packaging or find an eco-friendly alternative for some of the harsh chemicals in their home.
While my goal isn't to have a zero-waste kitchen, I do want to reduce waste and use fewer disposable plastic products. It's easy to use cloth napkins and wash clothes in cold water.
I try to avoid plastic bags and cut down on food packaging as much as I can. We are trying to have a more eco-friendly lifestyle and reduce waste.
Check out Repurpose for alternatives that are plant-based.
How to reduce plastic packaging
1. Find out what you can buy in bulk and where your local source is. This could be everything from grains to laundry detergent.
2. Avoid individually wrapped items like condiments, snacks, and candy.
3. Bring your own reusable bags or paper bags when shopping, or better yet shop at a store that doesn't use plastic bags. Check out Repurpose for some great alternatives.
4. Don't buy pre-packaged convenience foods like frozen dinners, or TV dinners. Skip the plastic straws.
5. Avoid using Saran wrap and other plastic film packaging. Try reusable silicone bags or beeswax wraps instead. There are lots of reusable alternatives to plastic food storage containers.
6. Bring your own containers when you know you'll be getting take-out food.
7. Buy fresh fruits and vegetables from your local farmers' market or local grocers. Don't forget an organic cotton bag for loose fruits instead of using plastic produce bags.
8. If you must buy packaged goods, try to find ones with less plastic packaging.
9. Shop at secondhand stores for dishes and cookware instead of buying new plastic items.
10. Repurpose or recycle plastic containers that you already have.
Eliminate plastic bottles for on-the-go drinks. Remember to bring a water bottle to reduce throwaways.
Alternative to plastic bags
Remember you don't have to go entirely plastic-free. Just reduce your reliance on things like plastic plates and cling film.
An easy place to start is by using Repurpose. Now you can use a trash bag that is plastic free and compostable rather than one made of plastic.
They make plastic-free compostable bags that are kitchen and bathroom size. You can also find plates, bowls, and utensils for times that you do need a disposable option.
Check out their entire line right here and add some to your sustainable kitchen.
Replace harsh chemicals with natural alternatives
1. Make your own cleaning products using eco-friendly ingredients like vinegar, baking soda, and lemon juice. This will help eliminate chemical additives and plastic waste from throwaway plastic bottles.
2. Ditch the paper towels and use dish towels or rags instead. You can use tea towels to dry your hands. Or, check out the Premium Bamboo Paper Towels from Repurpose for a more eco-friendly choice.
3. Use a reusable sponge or scrub brush instead of disposable ones. When washing dishes, a stainless steel scrubber works well for stuck-on messes when cleaning pots.
4. Buy concentrated laundry detergent so you can dilute it with water as needed. Look for dishwasher tablets rather than liquid stored in plastic jugs.
5. Use eco-friendly bar soap instead of liquid hand soap. A soap bar has less plastic waste than liquid soap.
6. Find plastic-free natural alternatives for personal care products like deodorant, shampoo, and toothpaste.
7. Make your own beauty products using ingredients like coconut oil, shea butter, and essential oils.
Plastic-free food storage
If you want a plastic-free kitchen, you can try some of these alternatives to single-use plastic bags and cling film.
1. Keep food fresh without plastic wrap by using beeswax wraps or silicone lids. They work well to cover bowls and smaller containers.
2. Store leftovers and packed lunches in reusable glass or stainless steel containers. Mason jars are very affordable and can be used over and over again.
3. If you do use plastic bags, wash and reuse them as many times as possible before recycling or throwing them away.
4. Use a reusable water bottle or filter your own tap water instead of buying bottled water.
5. Use a reusable plastic-free coffee mug or thermos instead of disposable cups.
6. Bring your own reusable straw when you go out to eat or drink. Plastic straws are very dangerous for marine life.
7. Avoid individually wrapped snacks and candy by buying in bulk or making your own snacks. Store loose snacks in Mason jars.
8. Buy loose leaf tea instead of teabags, or invest in a reusable tea infuser. They also make organic cotton reusable tea bags for less waste.
9. Avoid single-serve coffee pods by using a French press or drip coffee maker.
10. Store bulk items like spices in glass jars instead of plastic containers.
How to reduce food waste
In addition to reducing your reliance on plastic, you can also help reduce food waste.
1. Plan your meals ahead of time so you only buy the ingredients you need. Eliminate food waste by being realistic about what you will use.
2. Use up all the food in your fridge before it goes bad. This helps cut down on food scraps that get tossed.
3. Compost any food scraps that you can't eat. Buy a compost bin and get the family involved. Have a discussion about eco-friendly steps your family can do together.
4. Donate any non-perishable food that you won't eat to a local food bank.
5. Ask your grocery store if they have a program for donating unsold food.
6. Shop at farmers' markets or join a CSA to get fresh, local produce. Don't forget reusable bags.
7. Buy frozen fruits and vegetables instead of fresh ones if you know you won't be able to eat them before they go bad. You can freeze fruits and vegetables in glass vessels instead of plastic.
8. Store food properly to make it last longer. Proper food storage will help eliminate organic waste.
9. Plan to eat food leftovers for lunch or dinner instead of letting them go to waste. Take them to work in a stainless steel bento box.
10. Use a food tracker app to help you keep track of what you have and how long it will last.
Small steps for a plastic-free kitchen
By following these plastic-free kitchen tips, you can help reduce the amount of plastic in your kitchen and make it a more sustainable and eco-friendly space.
Remember, you don't need to go to zero waste. Every step toward having a plastic-free kitchen will help the environment.
Check out the options from Repurpose Compostables. You will find everything from composable trash bags to paper towels. I have found their products to be comparable to traditional brands. And, I love knowing that my choices create less waste.
The next time you need a plastic bag, try one that's plastic free from Repurpose Compostables that is backyard compostable.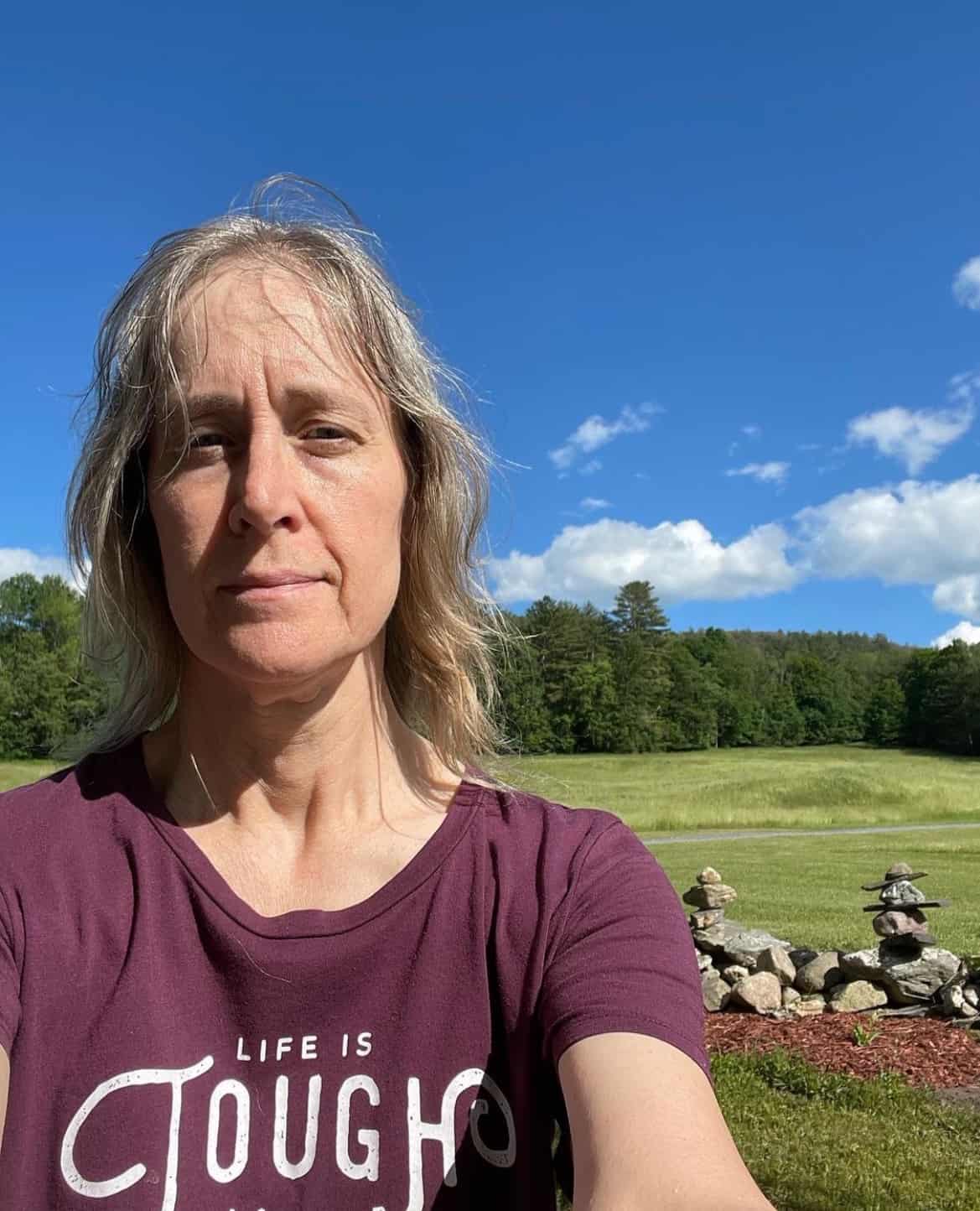 Ellen is a busy mom of a 24-year-old son and 29-year-old daughter. She is Grandma to one adorable baby girl. She owns six blogs and is addicted to social media. In what little spare time she has, she loves to read, watch movies, and play games. If you'd like to work together, email info@in-our-spare-time.com to chat.