Last Updated on April 12, 2023 by ellen
Marty and I love playing card games. The Fast Flip Card Game by Blue Orange Games is loads of fun. We enjoy card games because they don't take up large blocks of time.
Posts may be sponsored. This post contains affiliate links, which means I will make a commission at no extra cost to you should you click through and make a purchase. As an Amazon Associate I earn from qualifying purchases.
Fast Flip Card Game by Blue Orange Games
Sometimes, after dinner, we want something quick before our movie starts. There isn't enough time for a board game or another TV show. But, we can play a card game quickly.
Fast Flip is a card game by Blue Orange Games. Like many of the card games from Blue Orange Games, it comes in a metal tin to keep all of the cards together. This is by far one of my favorite things about the games from this site.
Boxes tear and rubber bands break, but a metal tin will keep your cards in excellent shape for years. For Fast Flip, the metal tin is triangular shaped, red and has fun fruit shapes on it to match the theme of the card game.
About the game:
Fast Flip Card Game is a clever high-speed matching card game, in which players race to grab the scoring token that matches the current round's challenge. Each card has a series of different fruits on its front side, and either a number or a single fruit printed on its back.
Each round, one card is flipped face-up, and one is kept face down. If a number is printed on the facedown card, then players must race to identify which fruit is shown that many times on the face-up card. However, if a fruit is shown on the facedown card, then players race to determine how many times that fruit is shown.
The first player to grab the corresponding token scores the face-up card as a point. The magic distribution of fruits on the cards guarantees that there is always one correct answer. You just need to be the fastest to find it!
My review
Fast Flip Card Game is intended for ages 7 and up but I can tell you that even as adults, Marty and I enjoyed playing it. The game can be played with between 2 and eight people, so it's perfect for a game with family or even at a small party.
The game contains 54 cards, ten tokens, and the rules. The tokens have either a number or a piece of fruit on them. The cards are double-sided. One side contains either a number or a piece of fruit. The other side includes a bunch of different fruit.
The game can be played in two different ways, but you are finding matches between the two cards – either the type of fruit or the number of fruit depending on how the cards fall.
Fast Flip is a fun card game that moves along quickly. You need to have a good eye for detail and speed to win. But, the simplicity makes it something the whole family will enjoy. You can buy it here.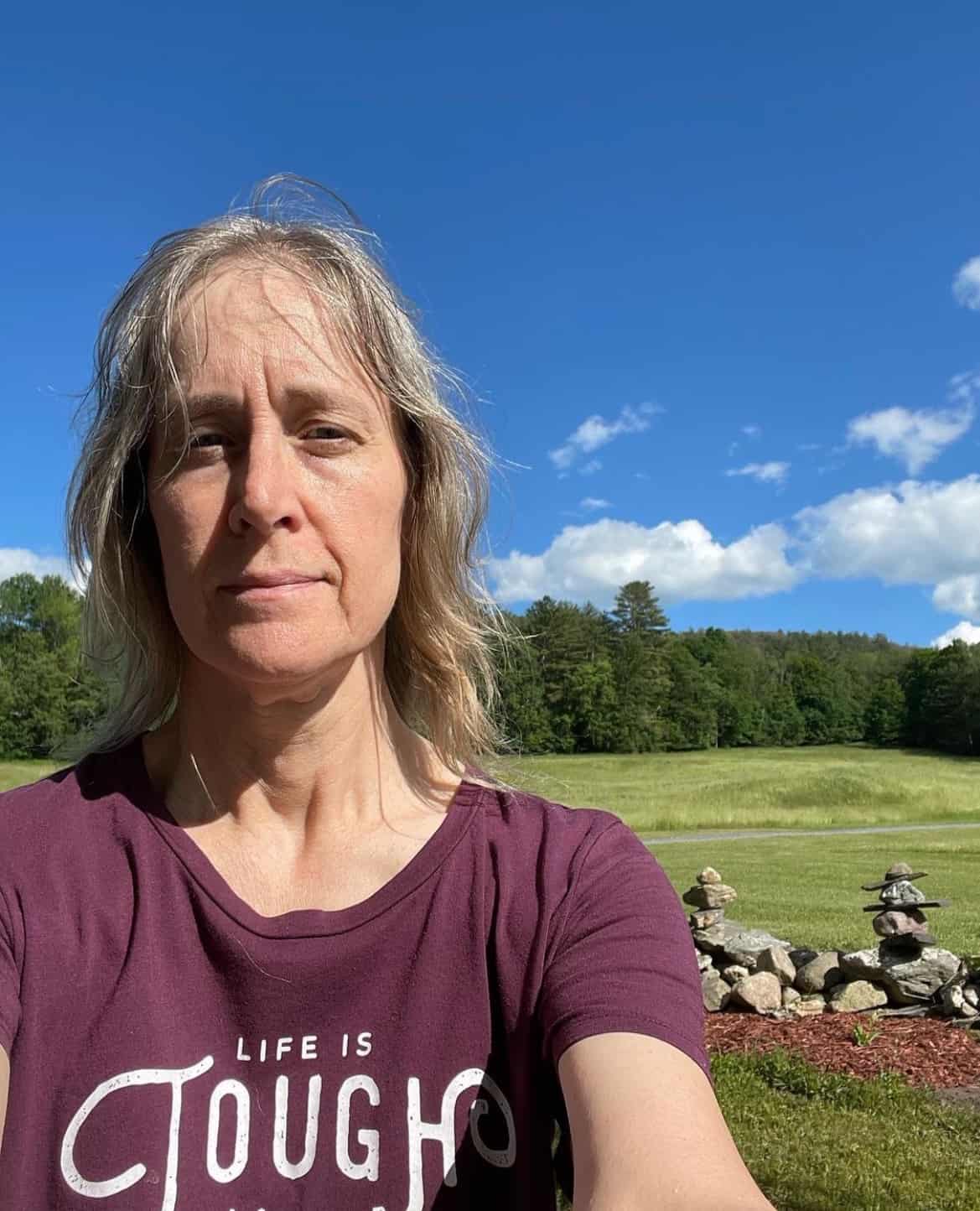 Ellen is a busy mom of a 24-year-old son and 29-year-old daughter. She is Grandma to one adorable baby girl. She owns six blogs and is addicted to social media. In what little spare time she has, she loves to read, watch movies, and play games. If you'd like to work together, email info@in-our-spare-time.com to chat.